The NWDA work at neighbourhood level through collaborative projects led by a local partnership of health, social care, voluntary community sector and local people.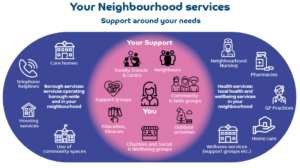 The alliance identify areas of improvement in a community and work together to share intelligence, co-create solutions and establish local project(s) to improve the health & wellbeing for Lambeth residents.
Through this collaborative approach, the NWDA aims to:
Maximise wellbeing
Reduce health inequalities
Achieve best value and high quality services
Why develop a Neighbourhood and Wellbeing Delivery Alliance?
We face a series of challenges as a borough
Unequal access to services, variable experience of care and significant pressure on our services and our workforce.
We have a shared vision for the future
Our vision is to improve the health and wellbeing of Lambeth residents
All service partners want to work with residents to improve services