The Lambeth Health and Wellbeing Bus usually operates between 10am and 4pm Mondays to Fridays in public locations across Lambeth unless it is attending a special event.
Covid vaccines for over 16s and boosters are being offered, please check daily listings below for availability. Flu vaccines are also offered to eligible groups on selected days.
You don't need to book an appointment to visit the Health and Wellbeing Bus.
You don't need proof of address, NHS number or immigration status to have a vaccination at the bus or at many of the other Covid-19 walk-in vaccination clinics.
Visit the south east London winter vaccines page for more information on who is eligible, how to get a vaccine and answers to common questions about these vaccinations.
Upcoming bus timetable
IRMO Angell Town
Clapham Park Cube
St Mark's Church Hub
Vauxhall Pleasure Gardens
Upper Norwood Library Event
Moorlands Pantry
Chandler Hall Event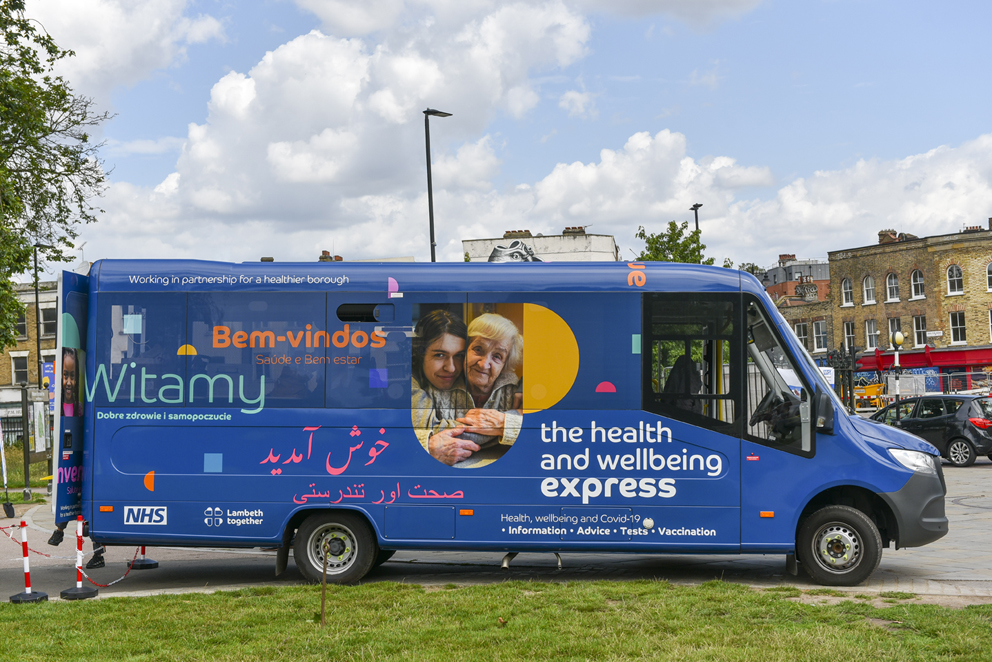 Vaccine information and covid support
The bus provides just one of the many walk-in opportunities to get your vaccination. For up-to-date details of other walk-in clinics locally and who can attend, visit: www.selondonics.org/covid-walk-in. New dates and venues are being added all the time.
For up-to-date information on the Covid-19 vaccine, please visit: www.selondonics.org/covid-19
For more information on Covid-19 in Lambeth and support available to residents please visit: www.lambeth.gov.uk/covid-19
Tell us what you'd like to see on board
We would welcome any ideas about what information, advice or guidance you would like to see more of. Please send your suggestions to publichealth@lambeth.gov.uk and mark your email 'Health and Wellbeing Bus ideas'.