Patient Digital Champions
If you come across a patient who you feel would benefit from extra one-on-one support, using the internet or the digital tools your practice uses you can refer them to a Digital Champion.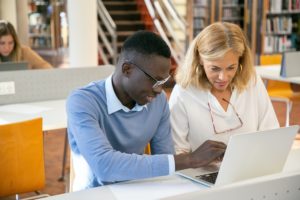 You may have a nominated practice digital champion on your reception team.
If you do not have one in practice you can refer them to the Lambeth Digital Champions by completing the  Digital Champion referral form and emailing it to our champion lead Wai Ha Lam  waihai.lam@nhs.net
Patients can self refer via by contacting Wai Ha directly on 07761 705 55. She will then match them to a local digital champion and arrange their first session at one of the Digital Learning Centres below.
Digital Learning Centres
---
Practice Guidance
The NHS App
NHS App guidance for GP practices: This guidance has all the information you need to know about the NHS App. It includes the following:
Guidance on NHS App features
NHS App Training and support materials
Help patients get on board with the NHS App
Proxy Access
Linked profiles and proxy access lets patients access medical services for a child or someone they care for.
---
Patient Access To Records
Prospective (future) records are being made available automatically for all patients from 1 November 2022. Take a look at the Resource to support staff with providing access to patients which includes:
Training sessions
Films to support GP Staff
Guidance on offering prospective record access
Guidance and materials for admin staff