How Can A Digital Champion Help Me?
one of our friendly digital champions will help you build your confidence to access support and services online for better health and social connections.
Digital Champions are supported by your GP practice. You can arrange to meet them on a one to one basis or as part of a group workshop or drop session. They can help you to:
Book GP appointments and order your medication online?
Use your smartphone, tablet or computer?
Connect with your family and friends on social media?
Know how to shop online?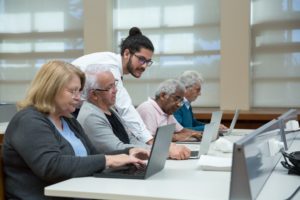 Below are the different ways you can get in touch with a Digital Champion:
Digital Drop-In at Waterloo Action Centre
Location: 14 Baylis Rd, London SE1 7AA
Day and Time: Every Monday from 1.30 pm – 3.30pm
Booking Information: Simply walk-in at the above time, no appointment is needed.
More Information: If Mondays are not good for you, we can meet you on other days and times. Contact our digital champion manager Wai Ha Lam on 07761 705 553 or email her at waihai.lam@nhs.net
One to One Session with a Digital Champion
Location: The digital champion will agree on a convenient location to meet with you
Day and Time: The digital champion will arrange a day and time to suit you
Booking Information: You will need to complete the below form with your details and one of our digital champions will be in touch to  arrange your first session.